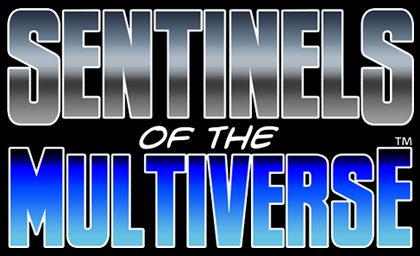 Publishers in the Expanded Metaverse -- UPDATED 18 March 2021 -- You can find me at GtG Forums, BGG, and Discord under the yakguardian/Yak Guardian Screenname.
---
---
The Expanded Metaverse
Introduction
In the official Metaverse, Sentinel Comics is the number 1 Comic Book Publisher, outselling a nebulous and unnamed list of competitors. The Expanded Metaverse is an attempt to present a cohesive timeline and encyclopedia of those fictional competitors (and fictionalized versions of Real World companies), as created by the wonderful third-party content providers.
OVERVIEW: Comic Books (and their merchandise, movies, TV shows, etc.) are a much bigger business in the Expanded Metaverse than in the Real World, accounting for a not insignificant percentage of the GDP. As of January 2021, Sentinel Comics accounts for roughly 72% of dollars spent on Comic Books. At any given time, there are ten to fifteen mid-sized Comic Book Companies (typically around a dozen), who together account for around a 16% share. There are around a hundred smaller publishers, accounting for another 8%. And over 500 independent (generally 1-5 employee) publishers accounting for the final 4%.
Another significant difference between the Real World and the Expanded Metaverse is that beginning in the Dark Age of Comics, publishers became much more open to the idea of multi-company crossovers. In many cases, the events of these crossovers were considered canonical events within the fictional universes.
---
---
Comic Book Publishers in the Expanded Metaverse
Color-Coding Key
Official Metaverse Publisher
Licensed Metaverse Publisher
Metaverse version of a Real World Publisher
Expanded Metaverse Publisher (3rd Party Content Creators)
Logo
Publisher Name
Status
Notes
Abstract Tales
Matthew Bishop
The Cauldron
All Epic Comics
John/Talkalots
Allied Comics
Michael J. Ahlers/YakGuardian
Logo
Publisher Name
Status
Notes
Bastion Comics
John/Talkalots
Logo
Publisher Name
Status
Notes
Chaos Comics
KingOfSouls
Chrysalis Publishing
Shane/Gold Chevron
Logo
Publisher Name
Status
Notes
DC Comics
Imprints & IP owned:
Marvel Comics
WildStorm Comics
Logo
Publisher Name
Status
Notes
Freedom Comics
Green Ronin
Sentinels of Earth Prime
Logo
Publisher Name
Status
Notes
Impossible Comics
OK, not actually a Real World
publisher, but based on the novel
Soon I will be Invincible by
Austin Grossman. My Fatale deck is
based on one of his characters.
(And Baron Blade is clearly based on
Doctor Impossible.)
Incognito Comics
Rob Brown/Bobbertoriley
Logo
Publisher Name
Status
Notes
Paragon Tales
Michael J. Ahlers/YakGuardian
Logo
Publisher Name
Status
Notes
Sentinel Comics
Official Metaverse Publisher
Imprints & IP owned:
Allied Comics
Boardwalk Comics
Justice Comics
Paragon Tales
Spooky Ghostwriter Comics
TeslaCoil
Logo
Publisher Name
Status
Notes
Team Menagerie Comics
Mike Williams/insomn
Turbine Publishing
Bart_KF
Logo
Publisher Name
Status
Notes
Unofficial Tales
Remote
Logo
Publisher Name
Status
Notes
[Real World]
[Custom]
---
---
Comic Book Timeline of the Expanded Metaverse
The Platinum Age (1897 - May 1938)
Comic Books appear on the scene as compilations of popular newpaper comic strips.
In the mid-1930s, color comics with original material begin to appear.
The Golden Age (June 1938 - September 1956)
National Allied Publications (later DC Comics) introduced Superman in June 1938. Batman follows less than a year later in Detective Comics #27. Timely Publications (later Marvel Comics) introduced the Human Torch and the Sub-Mariner in 1939. Fewcett Comics' Captain Marvel premiere's in 1940. The Golden Age of Comics has begun.
Other comic book companies in the Metaverse were founded as well: Sentinel Comics, Justice Comics, Abstract Tales (The Cauldron), EC Comics (fictionalized version of the real-world company), and Allied Comic Books (later Allied Comics; U.S. Cape Corps).
In the mid-1940s to mid-1950s, superhero comics popularlarity waned and romance, western, crime and horror comics gained in popularity.
Thomas Allen, founder of Allied Comic Books dies in a boating accident. The company is shuttered, but their parent company Allied Book Company continues to print compiled reprints (what later generations would call Trade Paperbacks) to maintain control of the IP.
The Silver Age (October 1956 - May 1973)
In 1954, the book Seduction of the Innocent was published, concluding that comic books were corrupting American youth. The major comic book companies (SC, DC, Marvel, etc.) band together to create the Comics Code Authority.
With many romance, horror, and crime comics cancelled, as they violated the CCA, superhero comics again take center stage. DC's introduction of a new Flash (in Showcase #4, October 1956) marks the beginning of the Silver Age. Silly villains and sillier plots are the standard of the day.
EC Comics emphasis on horror comics nearly dooms them until the surprising success of Ghost Detective, that skirts around the CCA by being a lighthearted, teen-centric twist on the horror and crime genres as the lead character solves minor mysteries (stolen library books, etc.) while hiding her true nature as a ghost.
In 1971, the grandchildren of Thomas Allen restart Allied Comics (formerly Allied Comic Books). The well-funded company picks up plot threads from the original storylines as if events had continued unseen by the readers for the past decades. Allied Comics blatant bribery of talent works as they rapidly become competitive with the other mid-sized companies (Abstract Tales, DC, Marvel, et al.).
The Bronze Age (June 1973 - 1985)
A younger generation of comic book writers/artists, coupled with the easing on some of the CCA standards heralds the dawn of the Bronze Age of comic. The then-shocking death of Gwen Stacy in Marvel's Amazing Spider-Man #121-122 in June-July 1973 is often cited as the beginning of this period.
Horror comics return, socially conscious themes emerges, and more diverse heroes appear on the scene.
The Dark Age (1985-1996)
The Dark Age is kicked off by major events, especially DC Comics' Crisis on Infinite Earths, SC Shattered Timelines, and Allied Comics reboot with the biweekly (25-issue) Universe of Darkness.
Darker, grittier comics appear. Anti-Heroes rule the day. The speculator market explodes and comic book companies start producing massive numbers of variant covers and special editions to feed it.
The Modern Age (1996-Present)
The collapse of the speculator market, slumping sales overall, and a return to optimism (as seen in Alex Ross' Kingdom Come from DC Comics, and E.Z. Banks' Yak Guardian from Allied Comics) mark the dawn of the Modern Age.
Silver Age virtues (and heroes) re-emerge.
Spurred in part by Sentinel Comics continued dominance of the industry, In 1996, E.Z. Banks convinces several companies to band together for Crossover Crisis, which languishes until SC approaches them with a deal to join the project resulting in a 6-issue mini-series in 1997 featuring heroes from muliple companies banding together to defeat a multiversal threat. Despite the popuarity of the title, the two planned sequels never appear. (Although some follow-up issues are eventually published by SC after their acquisition of Allied Comics.)
In 2016, Sentinel Comics' OblivAeon Event becomes the best-selling comic mini-series in history.
Despite growing popuarity of comic book characters in other media, the ongoing collapse of the print industry results in the increasing consolidation of the industry. Allied Comics goes out of business for the second time in 2016 (after a big budget disaster of a movie adaptation of U.S. Cape Corps) and sells their IP to Sentinel Comics. Several creators sue for breach of contract. SC settles out of court to secure AC's remaining IP. These creators then form Paragon Tales in 2017. Paragon Tales acquires Boardwalk Comics in 2019. In 2020, Paragon Tales secretly sells to Sentinel Comics with news of the sales only breaking when Paragon Tales premieres as an imprint of SC in January of 2021. (The editorial staff of the PT imprint is given responcibility for the four surviving AC titles.) Marvel Comics similarly sees their Iron Man movie flop at the box office and sells their IP to DC Comics, resulting in DC cementing their position as the number 2 publisher (with 2.5% of the market; SC remains the 800-pound gorilla of comic books).
Current State notes
Major Publisher (currently 1)
Sentinel Comics
(see The History of Sentinel Comics for details.)
(includes the Allied Comics & Paragon Tales Imprints)
(also owns IP from Justice Comics, Boardwalk Comics, etc.)
Mid-Sized Publishers (currently 12)
Abstract Tales (The Cauldron)
DC Comics (includes the Marvel Comics & WildStorm Imprints)
Dark Horse Comics
EC Comics
Image Comics
+7
Small Publishers (currently over 100)
Freedom Comics (Green Ronin/Sentinels of Earth Prime)
IDW Publishing
Impossible Comics (The Champions, Corefire, Fatale (Limited Series))
Pixar Comics (including IP from Gold Key Comics)
Valiant Comics (including IP from Acclaim Comics)
+ many more
Independent (i.e. 1-5 employee) Publishers (currently over 500)
8-Ball Comics (Taylor Ivans' Salvage Girl)
---
---
Comic Book Publishers -- Additional Information
All Epic Comics - [John/Talkalots] ...
Allied Comics - [Michael J. Ahlers/YakGuardian] Founded as Allied Comic Books in 1939 (as a subsidiary of Allied Book Company). When the founder tragically died, the company was shuttered, but Allied Book Company (by then run by the founder's sister) continued to print reprints and special editions to maintain control of the Intellectual Property (IP). In the 1970s, the founder's grandchildren restart the company and it becomes a moderately successful mid-sized publisher. However, a 2010s attempt at a blockbuster style movie bankrupts the company and the Allied Book Company sells the IP to Sentinel Comics who hand the imprint (represented by a couple of mildly successful titles) off to some writers that SC wants to keep on staff (but for whom they don't have a main SC universe title for their talents). Unfortunately, the sale of AC's IP to SC violated some of the newer writers' and artists' contracts. (They had Right of First Rufusal on the sale of their creations.) SC settles quickly to secure the remaining IP. Many of the writers and artists in question take their settlements and start Paragon Tales. Knowing that their immediate success is a flash-in-the-pan phenomenon, they turn around and sell the company to SC just as their popularity peaks. SC brings most of the PT staff onboard to run PT as an imprint and also gives them responsibility for the legacy AC IP.
Bastion Comics - [John/Talkalots] A mid-sized Central American publisher founded in the 1960s, they mostly produced spanish translations of licensed American characters. In the 1980s, they branched out and began publishing their own original content. Having years of experience seeing what worked and didnt work in the industry (especially in Central and South America) the original titles that they launched tended to go quite well.
Chaos Comics - [KingOfSouls] ...
Chrysalis Publishing - [Shane/Gold Chevron] ...
Incognito Comics - [Rob Brown/Bobbertoriley] In the 1990s a popular writer for Sentinel Comics and Abstract Tales, responcible for several background characters in both companies' fictional universes, decides to start his own company. Due to a smart lawyer and a minor irregularity in one of the writer's contracts, he is able to secure the rights to Charlie Edsell, P.I. and begins to publish new stories with the character.
Paragon Tales - [Michael J. Ahlers/YakGuardian] ...
Spooky Ghostwriter Comics - [TeslaCoil] This publisher has been around since the Golden Age of Comics.
Team Menagerie Comics - [Mike Williams/insomn] ...
Turbine Publishing - [Bart_KF]...
Unofficial Tales - [Remote] ...
- ...
---
---
Justifications
Why have EC Comics survive?
I've always felt that EC Comics got a raw deal. In any other industry, if there were three power players and two of them ganged up to drive the third out of business, there would have been public outcry and the US Attorney's Office would have launched a full scale Anti-Trust investigation and the two colluding companies would have received massive fines for anti-competitive behavior. Because it was comic books, it got ignored. So I gave EC and out.
Why have Marvel Comics go out of business? And why sell to DC?
Because this very nearly happened in real life. Marvel spent years on the bring of bankruptcy and there were even some very-informal, very-preliminary talks with DC. Instead, Marvel chose to risk it all on Iron Man 1 (and what would become the Marvel Cinematic Universe). Had it failed, they would have gone under, and in all likelihood sold to DC. (Again, because comics, this merger of the two biggest publishers would have likely been ignored by the Anti-Trust folks.
Why have Allied Comics and Paragon Tales sell to Sentinel Comics?
Allied Comics, as an idea, with a not insubstantial history of titles and characters predates Sentinels of the Multiverse, having been created for my short-lived webcomic Yak Guardian. As such I had a hard time not making them a significant force in the metaverse. But I also wanted them out of the way of causing conflicts with other people's head-canon. Also, I have no plans for any of the major AC characters to make their way into the game. (A few minor ones, mostly C-level heroes and/or characters created specifically for the game.) And in my head there is too much history between AC and PT for them not to end up in the same space. Having them wind up as minor imprints of SC seemed like the best way to go.
Plus, I have a third fictional publisher waiting in the wings for future projects, with none of the baggage of those two, so there's that...
---
---
Webpage copyright 2021 Michael J. Ahlers.
Sentinels of the Multiverse is the property of Greater Than Games. The Cauldron was created by Matthew Bishop. Earth Prime is the property of Green Ronin. All other items are the intellectual property of their respective creators.
---
---